Semiconductor Anodes
Anodes of Doped Metal Oxides are generally called Semiconductor anodes. There is a large array of different types. Tin Oxide (SnO2, Stannic Oxide) doped with Sb (ATO, a common type). Also Tin Oxide doped with Bi is another.
The ATO anode does not appear to be very useful for Perchlorate making. It may be usable for Chlorate making. This type of anode has found application in waste water treatment as it has a high Oxygen evolution potential (will not liberate Oxygen) when used in these's applications, eg. US 4839007. Also see further reading section.
Other examples of Semiconductor anode (with/without top coats) from RPW are:
1, Ti/SnO2+Sb+MnOx/PbO2
2, Ti/SnO2+Sb/PbO2
3, Ti/SnO2+MnOx+Y/PbO2(quite good)
4,Ti/SnO2+CeO2/PbO2(have shortest service life)
5, Ti/SnO2+Sb+CF/PbO2 has been prepared by others in my lab, (CF=Carbon fiber, this anode is said to be the best)


The Bi doped Tin Oxide anode has been described as useful for (Per)Chlorate making in US 4272354.


The main use for ATO in the (Per)Chlorate making scene is as a coat between Ti and LD.
There is a discussion of obtaining DTO (Doped Tin Oxide) coatings in the section on Ti substrate LD anodes.


A Perchlorate cell was set up using almost pure Chlorate. An ATO anode was run in this cell for approx. four times the theoretical (100% CE) run time of the cell. A sample of solid was obtained by evaporating a portion of cell liquid. The Chlorate content of this solid was found to be 69%. Therefor the anode is not a good Perchlorate anode.


Below is a discription of making an ATO anode from RPW.

This is my procedure to prepare Ti/PbO2 anode with SnO2+SbOx(Sb2O5+Sb2O3) inter layer.
The Ti plates (5 Ч 1 Ч 0.1 cm) were used as substrates. Prior to using as substrates, they were polished with 320-grit sandpaper, degreased in 40 wt% NaOH solution at 80C for 2h, etched in a boiling 10 % oxalic acid solution during 1 h, after that, they were rinsed with distilled water and dried naturally. (If you don't have oxalic acid solution,sometime concentrated hydrochloric acid also works, you should see a purple solution during the boiling Ti plate, this step is very important, only via this you can remove the TiO2 insulting layer,Remember: do not use raw water in this step, a distilled water is preferred.
The SnO2+Sb interlayer was prepared following a standard thermal decomposition method and the procedures were as follows:
A solution containing SnCl4:5H2O and SbCl3 was dissolved in a mixture of n-butanol(or ethonal)+HCl.(eg. 4g SnCl4:5H2O + 0.2g SbCl3 + 9ml n-butanol + 1ml HCl solution, you can made about 5 anodes, the best mol ratio is SnO2: Sb=100:4~8). The precursor solution was distributed onto the pretreated Ti plates by brushing. The solvent was dried in air or a oven(90C,a hair dryer also ok), and the electrode was introduced into an oven at 450C for 10 min for the decomposition of the salt and the formation of the metal oxides. This process was repeated for 15-20 times. A final annealing of the electrode was performed at about 500C for 1h.
(PbO2 was then applied to this anode)
The PbO2 activated layer was prepared by electrochemical deposition method, First deposition in 170-230 g/L Pb(NO3)2 and 18-30g/L HNO3 at 70C and the current was 70mA/cm2 for 2h. (this was to prepare Alfa-PbO2)Then deposition at 40mA/cm2 for another 3 hour.(remember the Fe ion must be removed,the bubbles occuring during the deposition also needs to be removed). Sometimes 0.25g/L NaF was added to the solution. This raises the Oxygen overpotential (less O bubbles on anode and may also dope the LD).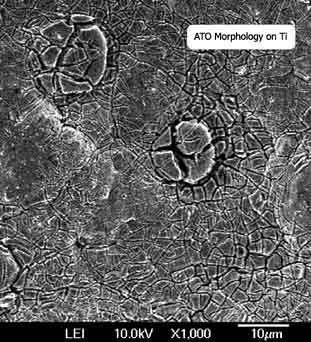 See also: Preparation, Micromorphology and Stability of Tin Dioxide Thin Films @ http://www.rials-science.ttp.net/3-908450-19-5/435/
---
HIT THE BACK BUTTON ON YOUR BROWSER